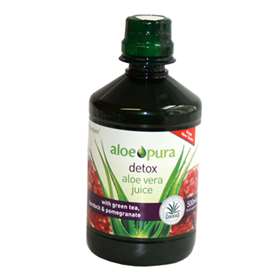 Click on image to enlarge
| | |
| --- | --- |
| Price: £6.25 (incl VAT) | Sorry, this product is no longer available. |
Aloe Vera Detox Juice - Detox Cleansing Action.
New improved formula (please see ingredients below for further details)
Contains 100% natural, unfiltered Aloe Vera juice (including leaf and inner gel).
Also contains Burdock, Gree Tea and Pomegranate, along with a selection of herbs, to cleanse and purify the digestive system.
Rich in polysaccharides.
Translucent, amber coloured liquid; can easily be added to fruit juice.
Aloe Pura (by Optima) bring to you a unique blend of aloe vera and detox agents which is a great tasting and convenient way to detox and improve your general feeling of well being.


Aloe Vera is well documented as a cleanser and revitaliser for a wide range of aliments. It cleans out the intestines and detoxifies the body as well as stimulating and supporting the immune system. Not only that, but Aloe Vera can also aid with the absorption of vitamins and minerals in your intestine.

Green Tea - Well known for its antioxidant benefits and may help stimulate and improve digestion.

Burdock - Traditionally used and known to posses diuretic properties, helping the body get rid of excess water and cleanse the body.

Pomegranate - For a natural fruit taste and rich source of antioxidants.

Directions:
Take 25ml twice a day neat, or if preferred, diluted with water or fruit juice. Avoid use whilst pregnant or breast feeding. Skake well before use. Keep refrigerated after opening.

Ingredients: 100% natural Aloe Vera Juice*, Water, Pomegranate Juice, Fructose, Botanical Extract (Burdock and Green Tea), Antioxidant: Ascorbic Acid, Preservative: Potassium Sorbate, Fructo-oligosaccharides, Natural Flavour.
* Without Bitter Aloin.
Please Note: Photograph depicts old-style packaging.