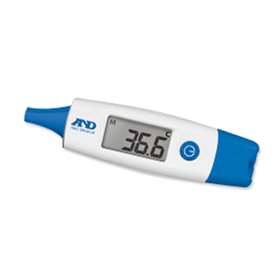 Click on image to enlarge
| | |
| --- | --- |
| Price: £16.40 (incl VAT) | Sorry, this product is no longer available. |
A-&-D Medical UT 601 Digital Instant Ear Thermometer Convenient and easy to use with a significant function within the home, particularly for those with babies and small children.
The probe can be held close (about 5mm) to scan hot surfaces such as bath water or even hot drinks to check safety of temperature.
The A&D digital thermometer is able to read with leading accuracy the ambient air temperature between the 5°C - 40°C range.
Designed to be used without probe covers.
Previous temperature reading displayed.
Easy to use one button operation.
Measures surface temperatures of liquids and solids
Temperature reading within 2 seconds - ˚C or ˚F.
Two year warranty.
Direction for Use:
Turn on the unit.
Insert the probe into the ear canal.
Press and hold the button until the unit BEEPS! Release the button.
Read the result in the display.

Precautions.
Do not open the device.
It uses delicate electrical component that could be damaged.
If you cannot fix the problem using the troubleshooting instructions, request service from your dealer or from the A&D service group.
The A&D service group will provide technical information.

The device was calibrated at the time of manufacture. If at any time you question the accuracy of measurement, please contact your dealer or the A&D service group.