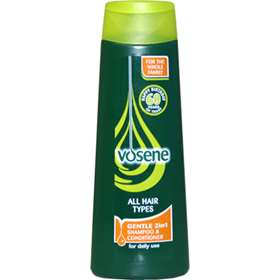 Click on image to enlarge



Price: £2.10 (incl VAT)
(Buy any 3 or more Vosene products and save 2%)
Price: £2.10 (incl VAT)
(Buy any 3 or more Vosene products and save 2%)
Vosene Gentle 2 in 1 Shampoo and Conditioner contains kind and gentle cleansing ingredients to help maintain a healthy scalp and shiny manageable hair for the entire family.

This easy to use Vosene 2 in 1 Gentle Action Shampoo and Conditioner is fuss free and suitable for both adults and children. The formula is mild yet powerful enough to clean the hair and scalp whilst maintaining the natural protection of the scalp whilst the unique blend of conditioners work to leave the hair soft, manageable and shiny.
250ml flip top bottle of Vosene Gentle 2 in 1 Shampoo and Conditioner.
Encourages healthy scalp and shiny hair.
Contains pro-vitamin B5.
Mild formula for regular use.
Suitable for all hair types.
Fresh unisex fragrance.
Suitable for adults and children.
The Vosene 2 in 1 Shampoo and Conditioner cleanses the scalp to keep it healthy whilst also smoothing and conditioning the hair with pro-vitamin B5.

Vosene recommend:
This family friendly formula is recommended for daily use to maintain a healthy scalp and hair. If family members begin to develop symptoms associated with dandruff Vosene recommend using the Vosene Original Medicated Shampoo or Vosene Frequent Anti-dandruff Shampoo.

Directions for use:
Apply a small amount of Vosene shampoo to damp hair and massage in well. Leave for 1 minute for the product to work. Rinse thoroughly. Repeat the process if necessary. Avoid contact with eyes and keep out of reach of children.

Ingredients:
Aqua, Sodium Laureth Sulfate, Cocamidopropyl Betaine, Sodium Chloride, PEG-3, Distearate, Panthenol, Parfum, DMDM Hydantoin, Guar Hydroxypropyltrimonium Chloride, Citric Acid, Disodium EDTA, Sodium Hydroxide, Benzoic Acid, Sodium Benzoate, Propylene Glycol, Linalool, Butylene Glycol, Chamomilla Recutita Flower Extract, Glucose, Lactoc Acid, Potassium Sorbate, Bisabolol, Hexylene Glycol.


Product code: VOS80C
Price: £2.10 (incl VAT)
(Buy any 3 or more Vosene products and save 2%)