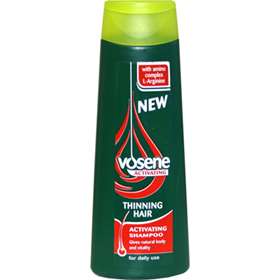 Click on image to enlarge



Price: £2.79 (incl VAT)
Sorry, this item is currently unavailable. Click here to receive notification when this product comes back into stock.
Vosene Activating Shampoo with amino complex L-Arginine gives natural body and vitality to thinning hair.

Vosene Activating Shampoo has been specially developed for those who have thinning hair or are noticing the hair beginning to thin. The Vosene Activating shampoo contains both Salicylic Acid and L-Arginine to cleanse fine, thinning hair and improve the over all body and appearance.
250ml flip top bottle of Vosene Activating Shampoo.
Suitable for daily use.
Specific care for thinning hair types.
Contains L-Arginine and Salicylic Acid.
Increases natural body in the hair.
Care for the hair and scalp.
Best results when used alongside Vosene Activating Hair Tonic.
Vosene Activating Shampoo combines a unique blend of ingredients that gently care for and cleanse the scalp and thinning hair whilst helping the hair to improve its natural body and vitality without being weighed down. The Vosene Shampoo for thin hair contains L-Arginine; an amino complex which is naturally produced in the body. The L-Arginine is a key component of the structure of the hair and the inclusion of this ingredient works to strengthen the hair with regular use. The Salicylic Acid in the Activating Shampoo is highly effective in working to treat and remove dandruff quickly and easily from the scalp.



Vosene Recommends:
For best results use the Vosene Activating Shampoo each day and follow with the Vosene Activating Hair Tonic to reduce hair loss in men and women and improve hair volume and thickness.

Directions for use:
Apply the Vosene Shampoo to damp hair and scalp and massage in well. Leave the product on the hair for 1-2 minutes then rinse thoroughly.

Ingredients:
Aqua, Sodium Laureth Sulfate, Cocamidopropyl Betaine, Salicylic Acid, Arginine, Sodium Chloride, Coco-Sulfate, Glycerin, Sodium Benzoate, Sodium Citrate, Parfum, Linalool.