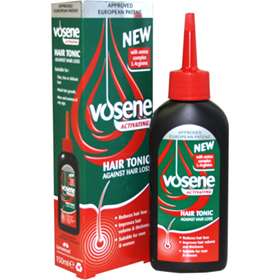 Click on image to enlarge



Price: £6.09 (incl VAT)
Sorry, this item is currently unavailable. Click here to receive notification when this product comes back into stock.
Vosene Activating Hair Tonic with amino complex L-Arginine protects against and reduces hair loss and is suitable for both men and women.

Vosene Activating Hair Tonic treatment is suitable for thin, fine hair types to help reduce hair loss and improve hair volume and thickness. The Vosene Hair Tonic is rich in L-Arginine which helps to strengthen the hair.
150ml bottle of Vosene Activating Hair Tonic.
Suitable for men and women of any age.
Suitable for thin, fine, delicate hair.
Aids weak hair growth.
Helps reduce hair loss.
Improves hair volume and thickness.
Reduces hair loss.
Scientifically proven results, approved European patent.
Contains L-Arginine.
To be used initially as an intensive treatment and then a maintenance treatment product.
Vosene Activating Hair Tonic has been specifically designed to target hair that is fine, delicate and thinning. The amino acid ingredient, L-Arginine, naturally produced in the body, works to strengthen each strand of hair whilst improving the volume and thickness overall when used regularly. The approved European patented formula is also ideal for those who experience weak hair growth as frequent use of the Vosene Tonic as part of a hair care regime will increase the strength of the hair whilst providing a healthy appearance.

Vosene recommend:
Apply the Vosene Activating Hair Tonic twice a day for 4-6 months as an intensive treatment, and 3-4 times per week thereafter to maintain your hair.

For best results, wash hair first with Vosene Activating Shampoo.

Directions for use:
Apply the Vosene Activating Hair Tonic directly to dry hair or after shampooing and towel drying. Remove the cap of the applicator and apply Vosene Hair Tonic evenly and directly to the scalp and hair.
Gently massage the tonic into the scalp for 2 minutes.
DO NOT RINSE THE HAIR TONIC OFF.
Style hair as usual and replace the applicator cap.

Ingredients:
Aqua, Alcohol Denat. Propylene Glycol, Arginine, Citric Acid.