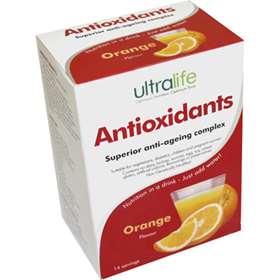 Click on image to enlarge
| | |
| --- | --- |
| Price: £7.99 (incl VAT) | Sorry, this product is no longer available. |
Ultralife's Antioxidants 14 provides you with exceptional protection against free radical oxidative damage (like iron rusting) that effectively speeds up the ageing process. The increased production of free radicals is thought to contribute to the development of many diseases such as heart disease and cancer as well as premature ageing. This increase is due to pollution, mobile phone radiation, pesticides and toxins, to name but a few.

Product Benefits:
Combats oxidation, which causes premature ageing.
Helps boost your immune system.
Supports you body in times of stress.
Eliminates harmful free radical toxins.
Helps protect against cellular damage.
Helps protect against the potential harmful effects of everyday environmental chemicals, sunlight and mobile phone radiation.
Free From:
Artificial colourings.
Artificial flavourings.
Artificial flavour enhancers.
Artificial preservatives.
Aspartame or Saccharin.
Sucrose.
Lactose
Lactose
Dairy
Egg
Wheat.
Gluten.
Non Genetically Modified.
Suitable for:
Vegetarians, diabetics, pregnant women, children.

Directions:
Take 1 serving 1-2 times per day. For each servings add the contents of one sachet to a glass, add 200-250ml of chilled water and stir vigorously until thoroughly mixed.

Warnings:
1)Keep out of reach of children. 2)Use as a supplement to a balanced and varied diet. 3)Do not exceed the recommended daily dose. 4)Pregnant women should not consume more than 800ug of Retinol (pre-formed vitamin A) per day.

Ingredients: Fructose, Maltodextrin, Natural preservatives (Citric Acid, Malic Acid), Natural Flavourings, Natural Mixed Carotenoids, Sodium Bicarbonate, Calcium Ascorbate, Natural Mixed Tocopherols and Tocotrienols, Sodium Cyclamate, Grape Seed Extract, Sucralose, Acesulfame Potassium, Retinyl Acetate and Black Pepper Extract.