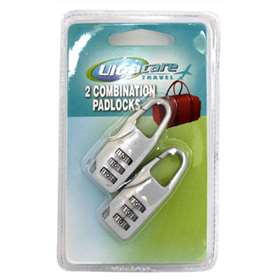 Click on image to enlarge



Price: £2.99 (incl VAT)
Sorry, this item is currently unavailable. Click here to receive notification when this product comes back into stock.
Ultracare Travel combination padlock is a small convenient way to give you are your suitcases or any form of luggage that extra bit of security.

Resettable codes.
Combination locks.
2 locks.
Directions:
The lock is preset to open at 0-0-0.
Push the button in the direction of the arrow, hold it until completing the next stage.
Turn the wheels to your desired personal combination.
Release the button, now the lock will open at your desired combination.
Remember your new combination. If you want to change again, repeat 2-3-4.