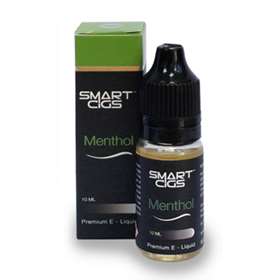 Click on image to enlarge



Price: £3.70 (incl VAT)
Sorry, this item is currently unavailable. Click here to receive notification when this product comes back into stock.
SmartCigs Menthol E-Cig Liquid 18mg Nicotine 10ml.

Just the coolest, crispest and cleanest menthol for the tongue for the ultimate vape in gorgeous freshness. Sophisticatedly formulated as a smooth cool flavour of the SmartJuice range. Available in two strengths - 18mg Nicotine or 12mg Nicotine. You can use SmartCigs E-liquid with all SmartCigs Tanks.

One bottle of 10ml SmartJuice is the equivalent to 300 traditional cigarettes.

Try mixing your own flavours with a few drops of different flavours to make your own cocktails!
Compatible for use with ProTank.
Compatible for use with TankPlus.
Compatible for use with MiniTank.
Concoct your own cocktail mixes.
Bursting with smooth clean Menthol.
Direction for Use:
All you need to do is twist the small black mouth piece out of the Clearomizer and fill your SmartJuice down the sides of the mini tank.
Leave for a few minutes to allow the wick to soak up the liquid and screw onto your thread battery.

Cautions and Warnings:
Toxic if swallowed, very toxic if in contact with skin.
Keep locked up and out of the sight and reach of children.
In case of accident or if you feel unwell seek medical advice immediately, showing the label if possible.

Not for use by pregnant women, or breast feeding women.

Not to be sold to under 18 years of age.

Ingredients:
Water, a level of nicotine as indicated. Propylene Glycol, Vegetable Glycerin, Natural Flavours.