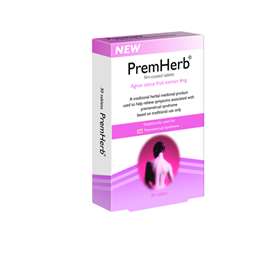 Click on image to enlarge



Price: £7.99 (incl VAT)
Sorry, this item is currently unavailable. Click here to receive notification when this product comes back into stock.
Schwabe PremHerb Film Coated Tablets 30 is traditionally used for premenstrual syndrome symptoms, including mood swings, breast tenderness, bloating and menstrual cramps.


30 Tablets.

Oral use.

For Premenstrual Syndrome.

Suitable for bloating and menstrual cramps.

Contains Agnus Castus fruit extract 4mg.

Directions of use: Take one tablet daily at the same time of the day if possible.

Cautions: Do not exceed the stated dose and keep out of sight and reach of children. Do not take PremHerb is you are pregnant or trying to become pregnant. Do not use if you are suffering from a pituitary disorder or are allergic to any off the ingredients. Not suitable for people under the age of 18.

Active Ingredients: Each PremHerb tablet contains 4mg of extract (as dry extract) from agnus castus fruit (vitex agnus castus L) (7-13:1) (equivalent to 28-52mg of agnus castus). Extraction solvent ethanol 60% v/v.