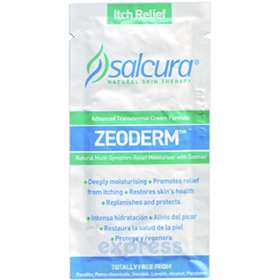 Click on image to enlarge



Price: £0.00 (incl VAT)
Sorry, this item is currently unavailable. Click here to receive notification when this product comes back into stock.
Salcura Zeoderm is a mineral enriched moisturising cream to treat very dry skin caused by eczema, dermatitis, psoriasis and skin allergies. It reduces itching and aggravation and also repairs & protects the skin.

Non-greasy/sticky and absorbs quickly.
Free from paraffin, petro-chemicals, steroids, lanolin, alcohol and parabens.
Suitable for all ages.
Adults and children who suffer with eczema, psoriasis, dermatitis and allergic rashes, may develop dry, scaly, aggravated skin. Salcura Zeoderm contains a mixture of minerals and nutrients which penetrate deep into the skin and offer intensive moisturisation and relief.

Zeoderm has been formulated by leading scientists to help promote the renewal of skin cell tissues. This results in strengthened and healthier skin. Itchy, sore break outs should become less frequent as skin is protected. Zeoderm is pH balanced, enriched with moisturisers, omegas, vitamins & minerals and contains anti-microbial, anti-fungal, anti-itch agents. These factors will also help to remove toxins from the skin.