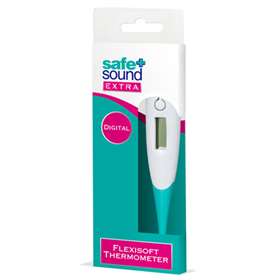 Click on image to enlarge
| | |
| --- | --- |
| Price: £3.99 (incl VAT) | Sorry, this product is no longer available. |
Safe and Sound Digital Flexisoft Thermometer is a comfortable and easy to use way of taking your temperature. The thermometer has large, easy to read digits and is perfect for oral, rectal and underarm use.
Temperature measuring range 32°C to 44°C.
Accuracy is ± 0.1°C between 35.5°C to 42°C and ± 0.2°C for remainder of the range.
Operating ambient temperature is between 5°C and 35°C. Supplied with a 1.5V LR41 battery.
Directions of Use:
Press the on/off button to turn on the thermometer. The window will then display 188.8M°E and a beep sound will be heard. This indicates that the thermometer is in working condition.
Once you have released the on/off button, the last temperature that was measured will be shown for a few seconds with the letter 'M' under the degree sign.
After this you should then see 37.0°C/98.6°F displayed, and then Lo°C/Lo°F displayed (if the room temperature is greater than 32°C/ 90°F, it will be displayed rather than Lo°C/ Lo°F). The flash °C/°F indicates the thermometer is ready to take your temperature.
You can now take your temperature either by oral, rectal or underarm method.
Cautions/Warnings:
Thoroughly inspect all parts before the first use and before each subsequent use to ensure that there are no defects, signs of wear or foreign particles. Discard immediately if signs of wear, damage or defect are noted.
Keep away from children when not in use as small parts could present a choking hazard. Battery cover end cap and battery are easily removed and present a serious risk of choking or injury if swallowed.
Use only under adult supervision.
Only use this item in accordance with supplied instructions and in accordance with any advice from your doctor or other healthcare professional.
Do not bite the probe and do not bend more than 45°.
Do not use to measure the temperature of any chemical solution.