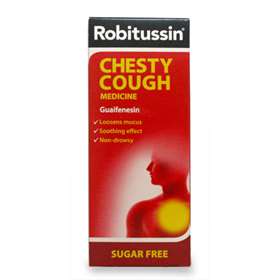 Click on image to enlarge



Price: £6.49 (incl VAT)

Robitussin Chesty Cough Medicin helps to relieve the symptoms of a chesty cough.
Productive: thick and sticky mucus or phlegm.
Tightness in the chest.
How Robitussin works
Loosens and thins mucus or phlegm making it easier to cough up.
Soothing effect.
Non Drowsy.
Sugar FREE.
To get the most from your medicine, it is recommended that you take a dose four times per day. By using Robitussin in this way, the active ingredients can help your body to be more effective at relieving your cough all day long.

Dosage:
Use the dosing cup included.
Adults, the elderly and children over 12 years:
One 10ml measure up to four times daily.

Not recommended for children under 12 years.

Warnings:
Talk to your Pharmacist or Doctor before taking this medicine if you are pregnant or breastfeeding, or are taking any other medicine.
If symptoms persist, consult your doctor.
Do not take more medicine than the label advises.

Keep out of sight and reach of children.

Contents per 5ml: 100mg Guaifenesin.
Also contains: Maltitol (E965), Sorbitol solution 70%, Ethanol (96%) 2.7%v/v.





| | | | | |
| --- | --- | --- | --- | --- |
| Product code: ROB655M | | Price: £6.49 (incl VAT) | | |