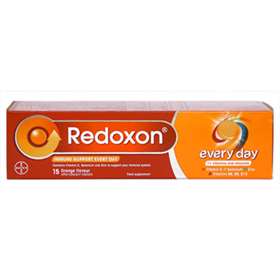 Click on image to enlarge



Price: £5.80 (incl VAT)

Redoxon Immune Support is an advanced high strength formula that brings together all the essential vitamins and minerals your body needs everyday to maintain your immune system, such as Vitamin C, Zinc and Selenium.

Vitamins (C, A, D, E, B6, B12 and Folic Acid) and minerals (Zinc, Iron, Copper and Selenium) help your immune system function - your bodies natural protector.

Vitamin A, Vitamin C and Zinc help maintain your skin - the body's first line of defence.

Vitamins C, Vitamin E, Zinc, Copper and Selenium are effective antioxidants.
Free From Preservatives.
Free From Yeast.
Maintains Immune System.
Contains Vitamin C and Minerals.
One a Day.
Directions for Use:
Adults: Dissolve 1 tablet per day in a glass of water to make a refreshing orange drink.

Children 6-12 years old: Half a tablet per day.
Taken daily RedoxonŽ Immune Support provides day to day support for your immune system.

As our bodies cannot store Vitamin C for any length of time regular use is recommended.

Cautions:
Food supplements should not be used as a substitute for a varied diet or healthy lifestyle.
Taking more than the recommended daily intake may be harmful.
Excessive consumption may cause laxative effects.

Ingredients:
Acid (Citric Acid), Ascorbic Acid, Acidity Regulators (Sodium Hydrogen Carbonate, Sodium Carbonate), Bulking Agent (Isomalt), Vitamin E Compound (DL-Alpha Tocopheryl Acetate, Starch, Maltodextrin), Flavourings (Tangerine and Orange Flavours), Sweeteners (Aspartame, Acesulfame Potassium), Colours (E101, E160a, Beet Red Juice), Zinc Citrate, Hypromellose, Vitamin A Compound (Retinyl Palmitate, Gelatin, Sucrose, Glycerol, Antioxidant: DL-Alpha Tocopherol), Ferrous Lactate, Vitamin B12 Compound (Cyanocobalamin, Maltodextrin, Trisodium Citrate, Citric Acid), Pyridoxine Hydrochloride, Cupric Gluconate, Vitamin D Compound (Cholecalciferol, Gelatin, Sucrose, Antioxidant: DL Alpha Tocopherol), Anti-Foaming Agent (Sucrose Tristearate), Pteroylmonoglutamic Acid, Sodium Selenate, Contains a source of Phenylalanine







| | | | | |
| --- | --- | --- | --- | --- |
| Product code: 3858834 | | Price: £5.80 (incl VAT) | | |