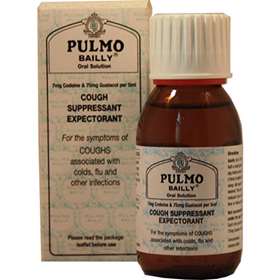 Click on image to enlarge



Price: £3.49 (incl VAT)
Sorry, this item is currently unavailable. Please consider purchasing Covonia Bronchial Balsam 150ml instead.
Or alternatively Robitussin Chesty Cough Medicine 100ml

Pulmo Bailly Oral Solution helps treat coughs related to conditions such as colds, flu, laryngitis and bronchial catarrh. Containing guaiacol expectorant to reduce mucus and codeine to provide relief from coughing, Pulmo Bailly carries all the hallmarks of a brand you can trust.
90ml bottle
Cough expectorant and suppressant
Directions for use:
Adults (18 years and up) add up to 10ml (2 teaspoonfuls) to half a glass of water and take three times daily before meals. Take another 10ml at bedtime to help give a good nights sleep. Pulmo Baily can be flavoured with sugar or added to fruit squash to improve the flavour if desired.

Cautions:
Do not exceed the stated dose.
The dosage may need to be reduced for the elderly or those with liver or kidney problems, please consult your doctor for guidance.
Not recommended for children under the age of 18, pregnant or breastfeeding mothers.
Keep out of the reach of children.
Do not use after the expiry date.
Protect from heat, do not store above 25°C.

Warning:
Pulmo Bailly may cause drowsiness. If affected, do not drive or operate machinery and avoid drinking alcohol.

Active ingredients per 5ml:
Codeine 7.0mg and Guaiacol 75.0mg.
Non actives: Phosphoricacid, sucrose, chloroform, glycerol, burnt sugar solution and purified water.




| | | | | |
| --- | --- | --- | --- | --- |
| Product code: PUL45J | | Price: £3.49 (incl VAT) | | Sorry, this item is currently unavailable. Please consider purchasing Covonia Bronchial Balsam 150ml instead. |