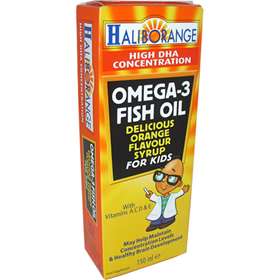 Click on image to enlarge



Price: £5.85 (incl VAT)
(Buy any 3 or more Haliborange products and save 5%)
Price: £5.85 (incl VAT)
(Buy any 3 or more Haliborange products and save 5%)
Haliborange Omega 3 for Kids Orange Syrup - May help maintain concentration levels and healthy brain development.
Omega-3 Fish Oil.
Delicious orange flavour syrup for kids.
With Vitamins A,C,D and E.
Children love to take great tasting Haliborange Omega-3 fish oil specially for kids. The fruity orange syrup tastes delicious.

As part of your childs daily diet, you can trust Haliborange to help ensure they safegaurd their intake of Omega-3 nutrients.

DHA is an Omega-3 fatty acid proven to play a role in the brain development of infants and may help maintain a childs concentration levels and healthy brain development.

Directions for Use:
Children over three years of age - two 5ml teaspoons daily. We know adults also love the taste and you can follow the same guide. A daily intake of Haliborange Omega-3 with vitamins safeguards your intake of these vital nutrient

NOTE: This picture depicts the 150ml size which has been discontinued.

Ingredients:
Water, Sucrose, Cod Liver Oil 23%, Glycerol, Orange Juice Concentrate1 7.6%, Tuna Fish Oil 2.6%, Vitamin C, Emulsifier: Polyoxyethylene Sorbitan Monostearate (Polysorbate 60), Acidity Regulator: Citric Acid; Flavours: Lemon, Orange; Stabiliser: Xanthan Gum; Vitamin E, Vitamin A Prep (Vitamin A, Sunflower Oil), Vitamin D Prep. (Fractionated Vegetable Oil, Vitamin D). 1 - Contains Sulphites.






Product code: SEV388A
Price: £5.85 (incl VAT)
(Buy any 3 or more Haliborange products and save 5%)