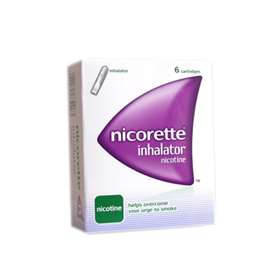 Click on image to enlarge
| | |
| --- | --- |
| Price: £5.49 (incl VAT) | Sorry, this product is no longer available. |
Nicorette Inhalator with 6 cartridges.
Inhalation cartridge for oromucosal use containing: Nicotine 10mg
The treatment of nicotine dependence and for the relief of withdrawal symptoms associated with smoking cessation
Adults over 18 years and elderly: frequency of use should depend on the previous smoking habit of the individual. Use whenever the urge to smoke is felt, up to a maximum of 12 cartridges a day. A course of treatment not exceeding three months is suggested and smoking should cease at the start of the course. For up to 8 weeks use, not less than 6 and not more than 12 cartridges a day to relieve craving, over the following 2 weeks the aim is to reduce the number of cartridges used by half, and over the next 2 weeks to reduce the number to zero by the last day
To use, a cartridge is inserted into the inhalator and air is drawn into the mouth through the mouthpiece. Deep drawing or short sucking can be used, as required by the individual. After 20 minutes of intense use the cartridge will need replacement
Under 18 years of age: not to be used


Please note that we cannot ship Nicorette Inhalators to the United States of America.