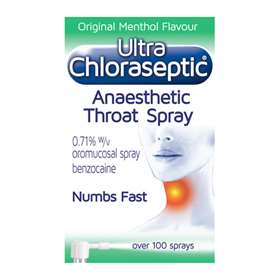 Click on image to enlarge



Price: £4.40 (incl VAT)

Spray goodbye to sore throats with Ultra Chloraseptic, an anaesthetic throat spray with Benzocaine. Unlike lozenges, which can numb the whole mouth, Ultra Chloraseptic's directional spray will help to ensure that fast-acting, effective relief is delivered straight to the site of pain in seconds.

Active Ingredients:
Benzocaine Ph.Eur.0.71% per spray. Also contains:ethanol, macrogol 300, propylene glycol, glycerol, cetylpyridinium chloride, saccharin sodium, sodium dihydrogen, phosphate dihydrate, sodium hydroxide, flavouring (levomenthol) and purified water.

Directions:

Please read the enclosed leaflet carefully before taking this medicine.
Adult Dose (13 years and over): spray 3 times to the back of the throat.
Child Dose (6-12 years): Spray once to the back of the throat.
Repeat every 2-3 hours.
Do not use more than 8 times a day.
Caution:
Do not use on children under 6 years.
Do not use and consult your doctor if you have difficulty in breathing, noisy breathing or severe difficulty in swallowing.
If you are pregnant or breastfeeding, consult your doctor before using this product.
Do not use if you know you are allergic to benzocaine or any of the ingredients.
Do not use for more than three days.
If sore throat is severe or persistent, or accompanied by fever, headache or nausea, consult your doctor.
Keep out of reach and sight of children.
Do not spray into eyes.
| | | | | |
| --- | --- | --- | --- | --- |
| Product code: 0017855 | | Price: £4.40 (incl VAT) | | |