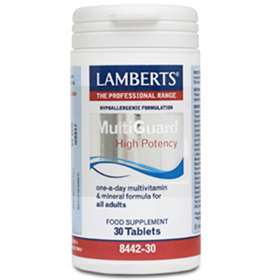 Click on image to enlarge



Price: £6.10 (incl VAT)
(Buy any 3 or more Lamberts products and save 5%)
Price: £6.10 (incl VAT)
(Buy any 3 or more Lamberts products and save 5%)
Vitamins, minerals and amino acids are essential to health and vitality. Although these substances occur naturally in various foods, adequate nutrition is not always achieved. Even in a well planned diet the vitamin and mineral content may be reduced or destroyed by cooking. Persons with inadequate diets, immune dysfunctions, chronic illnesses, pregnancy, periods of rapid growth, behavioural disturbances and the Elderly may all be at risk of dietary deficiencies.

Specific features of this product include:
(i) Relevant levels of all the Vitamins.
(ii) Good levels of all the important Trace Minerals.
(iii) All of the above in an easy to take, one-a-day formula.

This product is an excellent choice for anyone who requires all round nutritional support. Its one-a-day presentation and moderate tablet size encourages user compliance.

Extra Calcium and Magnesium (as product 8226 or 8230) should be taken with this product in situations where these two Minerals are believed to be deficient in the diet.

This product may be chosen by:-

the elderly.
people who are convalescing.
those with a hectic lifestyle and inadequate diets.
those undertaking non supervised slimming regimes.
Multi-Guard® is also suitable for use during pregnancy.

Recommended dosage: one tablet daily with a meal.

One tablet provides: Vitamin A 1948µg (From Vitamin A Acetate 781µg) • Beta Carotene (7mg) 1167µg • Vitamin D 5µg • Vitamin E 67mg • Vitamin C 150mg • Thiamin (Vitamin B1) 25mg • Riboflavin (Vitamin B2) 25mg • Niacin (as Nicotinamide) 25mg • Vitamin B6 (Pyridoxine) 25mg • Folic Acid 400µg • Vitamin B12 25µg • Biotin 0.15mg • Pantothenic Acid 50mg • Calcium 104mg • Iron 14mg • Magnesium 36mg • Zinc 15mg • Iodine 150µg • Manganese 4mg • Copper 500µg • Selenium 200µg • Chromium 200µg • Choline Bitartrate 25mg • Inositol 25mg • PABA 25mg • Molybdenum 500µg.






Product code: 8442-30
Price: £6.10 (incl VAT)
(Buy any 3 or more Lamberts products and save 5%)