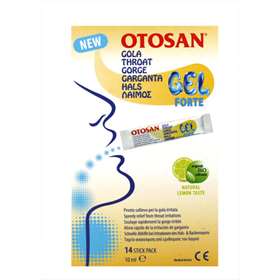 Click on image to enlarge



Price: £6.49 (incl VAT)
Sorry, this item is currently unavailable. Click here to receive notification when this product comes back into stock.
To relieve the symptoms associated with throat irritation, hoarseness, painful swallowing, burning and dry cough.
Aids throat irritation.
Burning or painful swallowing.
Hoarseness associated with dry cough.
Dryness of throat caused by external agents or environmental factors (smoking or sudden changes in temperature and humidity).
Pleasant lemon taste.
Gluten free.
Directions for Use:
Adults and children over 1 year: 2-3 stick packs per day to be taken by mouth during the initial stage of treatment: 1-2 stick packs per day during subsequent stages.
For best results do not eat or drink for at least 30 minutes after taking.

Ingredients:
Aqua, Cetraria Islandica dry extract, Arabinogalactan from Larix, Sisymbrium officinale glyceric extract, Sorbitol, Fructose, Xanthan gum, Menthae piperitae essential oil, Eucalyptus globulus essential oil, Citrus lemon essential oil, Thymus Vulgaris Leaf essential oil, Honey, Citric acid, Potassium sorbate.