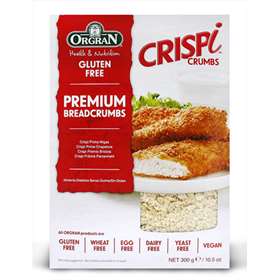 Click on image to enlarge



Price: £2.29 (incl VAT)
(Buy any 3 or more Orgran products and save 5%)
Price: £2.29 (incl VAT)
(Buy any 3 or more Orgran products and save 5%)
A versatile, quality gluten free product from the gluten free experts Orgran. A healthy and nutritious alternative to wheat breadcrumbs that will allow you to achieve crispy golden crumbing of meat, fish or vegetables.
Gluten free alternative to breadcrumbs.
Ideal for crumbing, stuffing or filling.
Perfect for sweet and savoury dishes.
Wheat, yeast and gluten free.
Dairy, egg and soy free.
Free from artificial colours, flavours and preservatives.
Suitable for vegetarian, vegan and kosher diets.
Orgran is a leading brand and trusted name in naturally gluten free nutritious foods, using a unique process that incorporates traditional methods to retain the natural flavour of the grains whilst ensuring the product offers the highest benefits and demands set by consumers of natural food and those on specialised diets.

Also available gluten free snacks, breads, pasta and baking ingredients.

Ingredients:
Rice Flour, Maize Flour, Chickpea Flour, Rice Bran, Dextrose from Maize, Salt, Emulsifier: mono and diglyceride of vegetables.





Product code: ORG16
Price: £2.29 (incl VAT)
(Buy any 3 or more Orgran products and save 5%)