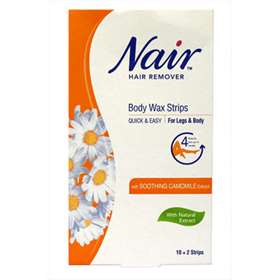 Click on image to enlarge



Price: £1.10 (incl VAT)

These ready to use waxing strips are a convenient and easy way to remove even short hairs with no messy preparation, just peel the strips apart, smooth down and peel off for long-lasting results in minutes.

Directions:
Patch test: Before each use, always do a patch test. Apply a test sample to a small area where the product will be used, following the instructions.
Wait 24 hours before applying the product to a larger area.
A slight reddening of the skin is normal for several hours after waxing.
In cases of more extreme reactions, discontinue use immediately and do not proceed with the full treatment.

Wash the area to be waxed with powder.
Take a wax strip and rub it between your hands to soften the wax.
Starting at the corners, peel the two halves of the strip apart slowly.
Apply one half of the strip to the area where the hair is to be removed, in the direction of hair growth. Smooth down with your hand.
Holding the skin taut, quickly pull off the strip in the opposite direction to hair growth, parallel to the skin, not up and away from the body.
The same strip can be reused by folding in half on itself and rubbing between the palms, before unfolding.
Warnings:
Avoid hot baths and sunbathing for at least 24 hours.
For underarm waxing, do not use a deodorant or anti-perspirant for at least 24 hours.
Never reapply wax to the same area within a 24 hour period.
If the skin to be treated is not held taut while the strip is removed, or the strip is not pulled back quickly and close to the skin, a pinching effect may be felt, a wax residue may remain on the skin or worse, the skin could be removed.

Cautions:
Wax should not be use by people suffering from diabetes or circulatory problems or on areas with varicose vein, moles or warts.
Do not wax inside nose ears, on nipples, perianal vaginal areas or eyelashes.
Do not use on irritated, inflamed or broken skin.
Not suitable for people with extra sensitive or problem skin.
Do not apply to sunburned, chapped, broken or sore skin, cuts, wek scars or eczema.
Do not use immediately after a bath.
Store in a cool dry place.
Keep out of reach of children.

Ingredients:
Glyceryl rosinate, Ricinus communis seed oil, Hydrogenated microcrystalline wax, Glycine soja oil, Bisabolol, Chamomilla recutita flower extract, BHT, Tocopherol.




| | | | | |
| --- | --- | --- | --- | --- |
| Product code: 4026878 | | Price: £1.10 (incl VAT) | | |