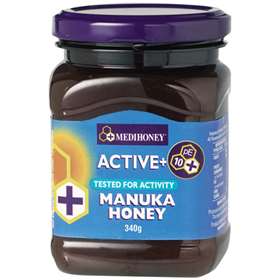 Click on any image to enlarge
| | |
| --- | --- |
| Price: £7.99 (incl VAT) | Sorry, this product is no longer available. |
Medihoney Active+ PE10 Manuka Honey is a unique blend of Active Leptospermum species of honey (Manuka/Tea Tree) exclusive to Medihoney.

Research has shown that certain Leptospermum species of plants, can contain high levels of activity that is very different from many other species of plant. The naturally occurring enzymes in these honeys (and other plant derived properties) remain active due to specialised processing methods.

As part of a healthy diet, Medihoney Active+ Honey is consumed by many wishing to maintain good health and well-being.

Directions for Use: Consume 3 teaspoons per day between meals.

Product Information: Medihoney Active+ Honey is carefully processed to retain the special properties of the unique honeys and may naturally crystallise. The honey is tested independently to verify their activity levels and is standardised to pEq 10+.

pEq is a measure of unique plant factor (UMF) as well as the enzyme activity. Active + Honey is standardised to provide a broad spectrum of activity.

Please note that natural crystalisation may occur and this is perfectly normal. It will not affect the taste or properties of this product.

"This honey is packed in a traditional manner and may gradually form a natural candy. Most other honeys are heat treated to kepp them liuid. At Medihoney we do not use this method as it destroys some of honey's natural properties."

Please ensure that this product is stored below 30oC.