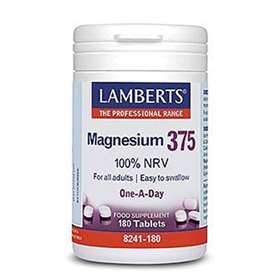 Click on image to enlarge



Price: £13.65 (incl VAT)
(Buy any 3 or more Lamberts products and save 5%)
Price: £13.65 (incl VAT)
(Buy any 3 or more Lamberts products and save 5%)
Lamberts Magnesium 375 One-A-Day tablets are easy to swallow magnesium tablets which contribute to the maintenance of normal bones and the normal functioning of the nervous system. Magnesium also contributes to maintaining normal muscle function, including the heart muscle.
100% NRV.
For all adults.
Easy to swallow.
Food Supplement.
Contribute to a reduction of tiredness and fatigue.
Directions:
Take one tablet daily with a meal.
Do not exceed recommended daily dose.
Food supplements should not replace a balanced diet and healthy lifestyle.

Ingredients:
Magnesium Complex (as Hydroxide, Oxide, Citrate & Carbonate), Microcrystalline Cellulose, Crosslinked Cellulose Gum, Anti-caking Agents (Silicon Dioxide & Magnesium Stearate), Tablet Coating (Hydroxypropyl Methylcellulose, Glycerin), Stearic Acid.





Product code: 8241-180
Price: £13.65 (incl VAT)
(Buy any 3 or more Lamberts products and save 5%)