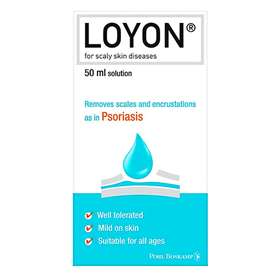 Click on image to enlarge



Price: £19.99 (incl VAT)

Loyon Solution offers a gentle way to remove scales and encrustations as in psoriasis.

Loyon Solution helps to remove scales and encrustations with an innovative, purely physical mode of action, independent of the underlying disease. Therefore Loyon is effective against different types of scaly skin disorders such as Psoriasis, seborrhoeic dermatitis and cradle cap. Loyon is odourless, non sticky, and very gentle to the skin, leaving it feeling pleasant after use.
For scaly skin disorders.
Removes scales and encrustations as in psoriasis.
Well tolerated.
Mild on skin.
Suitable for all ages.
Instructions for use:
Please read the instructions on the leaflet enclosed as they contain important information which you should bear in mind when using this medical device.
If you have any questions, please consult your doctor or pharmacist.

Directions for use:
This package contains a choice of two different application aids for individual selection - a pipette and a dispensing pump.
The dispensing pump is recommended for the self treatment of difficult to reach parts of the body and for the treatment of larger-sized areas.
The pipette should be used mainly for the treatment of toddlers and infants to avoid contact with eyes or mucous membranes, as well as inhalation of the spray mist.
The pipette is also recommended for the head as it allows selective application in between the hair.
Store below 25°C.

Side effects:
In rare cases, allergic reactions or local irritation can occur.

Warnings:
Loyon is for external use only.
When using Loyon, you should avoid contact with eyes or mucous membranes.
Should the the solution get into the eyes accidentally, rinse for 10-15 minutes with plenty of water.
If irritation persists, please consult your doctor or pharmacist.
If Loyon is accidentally spilled, there is a danger of slipping.
Spillages should be cleaned up immediately.
Keep out of the reach of children.
Loyon must not be used in people with known hypersensitivity to any of its ingredients.
For external use only.
Do not inhale.

Ingredients:
Dicaprylyl Carbonate, Dimethicones.

 



| | | | | |
| --- | --- | --- | --- | --- |
| Product code: 3997186 | | Price: £19.99 (incl VAT) | | |