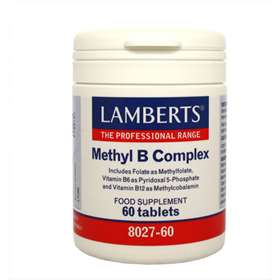 Click on image to enlarge



Price: £12.79 (incl VAT)
(Buy any 3 or more Lamberts products and save 5%)
Price: £12.79 (incl VAT)
(Buy any 3 or more Lamberts products and save 5%)
Lamberts Methyl B Complex is a formulation of Different types of Vitamin B but as a methyl complex rather than Folic Acid to give you optimum stability and bioavailability. Several B vitamins are known to contribute to the normal functioning of the immune system and psychological function. Others can be recognised to contributing to the reduction of tiredness and fatigue.

Directions:
Take 1 tablet daily with a meal, or as directed by a practitioner or pharmacist.
Do not exceed recommended daily dose.
Food supplements should not replace a balanced diet and healthy lifestyle.

Warnings:
Do not take if pregnant or breast feeding.
Long term intake of this amount of Vitamin B6 may lead to milkd tingling and numbness.

Ingredients:
Modified starch, Cellulose, Choline bitartrate, Pantothenic acid, Pyridoxal 5-phosphate monohydrate, Thiamin mononitrate, Niacin, Inositol, Riboflavin, Hydroxypropyl methylcellulose, GLycerin, Silicon dioxide, Stearic acid, Magnesium stearate, Folate (Quatrefolic (6S)-5-methyltetrahydrofolic acid, Glucosamine salt), Methylcobalamin, Biotin.




Product code: 8027-60
Price: £12.79 (incl VAT)
(Buy any 3 or more Lamberts products and save 5%)