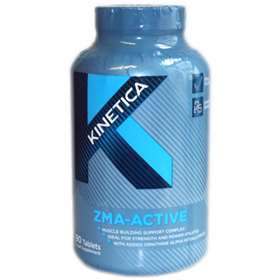 Click on image to enlarge
| | |
| --- | --- |
| Price: £20.99 (incl VAT) | Sorry, this product is no longer available. |
Kinetica ZMA-Active 90 helps increase strength and muscle mass. Supplementing ZMA during exercise increases zinc and magnesium levels which can improve training performance.


90 tablets.

Aids restful sleep.

Muscle building support complex.

Antioxidant properties.

Kinetica ZMA-Active contains a scientifically designed blend of functional ingredients, vitamins and minerals.

Directions for use: Take 3 tablets per day prior to sleep. Swallow with water.

Precautions: Kinetica ZMA-Active is a food supplement and should be used in conjunction with food as part of a healthy balanced diet and not as a substitute for such. This product is not intended for use by persons under 16 years of age. This product is not intended to diagnose, cure or prevent any disease. Keep out of reach of children. Do not exceed the recommended use.

Ingredients: Excipients (Microcrystalline Cellulose, Maltodextrin, Silica, Magnesium Stearate), Ornithine Alpha Ketoglutarate Powder (OAKG), Manesium Citrate Powder, N-Acetyl L-Cysteine, Ascorbic Acid (Vitamin C), Zinc Citrate Dihydrate Powder, Di-Alpha-Tocopheryl Acetate Powder (Vitamin E), Pyridoxal 5 Phosphate Powder (vitamin B6), Sodium Selenate Powder (With Rice Flour), Manganese Citrate Powder, Copper Citrate Powder.


| | |
| --- | --- |
| Magnesium (111% RDA) | 417mg |
| Ornithine Alpha Ketoglutarate | 500mg |
| L-Cysteine | 67.1mg |
| Vitamin C (34% RDA) | 26.9mg |
| Zinc (166% RDA) | 16.7mg |
| Vitamin E (100% RDA) | 12mg |
| Vitamin B6 (357% RDA) | 5mg |
| Selenium (332% RDA) | 183µg |
| Manganese (118% RDA) | 2.4mg |
| Copper (100% RDA) | 1mg |