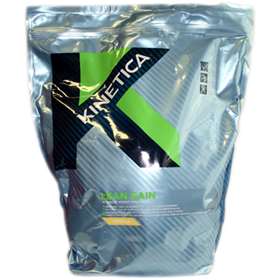 Click on image to enlarge
| | |
| --- | --- |
| Price: £47.99 (incl VAT) | Sorry, this product is no longer available. |
Kinetica Lean Gain Vanilla 3kg contains a mix of protein formula, 99.99% pure creatine monohydrate Creapure, carbohydrates and the digestive enzyme Aminogen.

Kinetica Lean Gain is formulated to help serious and professional athletes in gaining lean muscle mass and body mass.


3kg powder.

Vanilla flavour.

Encourages comfortable protein digestion.

Free from artificial colours and flavours.

Contains gluten, milk, sugars and sweeteners.

Serving scoop included.

Kinetica Lean Gain Vanilla has a tri-carbohydrate formula which promotes phased energy release, including maltodextrin which boosts short-term energy levels and low-GI Palatinose that provide long-term energy.

Directions for use: For optimal results take 3-4 Kinetica Lean Gain shakes a day. Simply add 3 scoops of Lean Gain to 500ml of water or low fat milk in a shaker, blender or stir with a fork.

Precautions: Pregnant women should consult a GP before use. If you are suffering from a medical condition, please consult your GP. Kinetica Lean Gain is not intended to treat illness. Please do not exceed the recommended dose. Keep out of reach of children. Supplements should not be used as a substitute for a balanced diet.

Ingredients: Carbohydrate Blend (Maltodextrin, Palatinose (Isomaltulose), Oat Flour), Biotein Xtreme (Ultra Filtered Whey Protein Concentrate Enriched With Organic Extra Virgin Coconut Oil), L-Glutamine, Creapure (Creatine Monohydrate), Natural Flavouring, Vitamin Blend (Ascorbic Acid (C), Nicotinamide (B3), Tocopheryl Acetate (E), Pantothenic Acid (B5), Riboflavin (B2), Pyridoxine (B6), Thiamine (B1), Retinol (A), Folic Acid, Phytomenadion (K), Biotin (B7), Cholecalciferol (D3), Cyanocobalamide (B12)), Stabiliser (Carboxymethylcellulose), Digestive Enzyme (Aminogen), Sweetener (Sucralose).


| | | |
| --- | --- | --- |
| Energy | 362kcal/1515kJ | 402kcal/1682kJ |
| Total protein | 31.7g | 35.2g |
| Total carbohydrate | 39.7g | 44.1g |
| of which sugars | 16.5g | 18.4g |
| Total fat | 8.5g | 9.4g |
| of which saturates | 6.7g | 7.4g |
| Dietary fibre | 1.1g | 1.2g |
| Sodium | 0.10g | 0.12g |
| L-Glutamine | 6.0g | 6.7g |
| Creapure | 3.0g | 3.3g |
| Aminogen | 200.0mg | 222.2mg |
| | | |
| --- | --- | --- |
| Ascorbic Acid (Vitamin C) | 24mg | 30% |
| Nicotinamide (Vitamin B3) | 4.8mg | 30% |
| Tocopheryl (Vitamin E) | 3.6mg | 30% |
| Pantothenic Acid (Vitamin B5) | 1.8mg | 30% |
| Riboflavin (Vitamin B2) | 0.42mg | 30% |
| Pyridoxine (B6) | 0.42mg | 30% |
| Thiamine (Vitamin B1) | 0.33mg | 30% |
| Retinol (Vitamin A) | 240µg | 30% |
| Folic Acid | 60µg | 30% |
| Phytomenadion (Vitamin K) | 23µg | 30% |
| Biotin (Vitamin B8) | 15µg | 30% |
| Cholecalciferol (Vitamin D3) | 1.5µg | 30% |
| Cyanocobalamide (Vitamin B12) | 0.75µg | 30% |