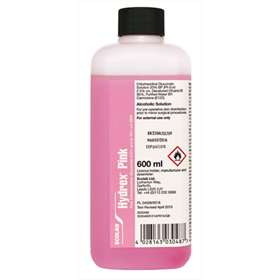 Click on image to enlarge



Price: £6.70 (incl VAT)

A pink chlorhexidine gluconate solution for pre-operative skin disinfection prior to minor surgical procedures.

Directions:
Apply the solution undiluted to the area to be disinfected. Remove excess liquid immediately.

Do not use:

Do not use on patients who are hypersensitive to chlorhexidine.
Do not use in contact with eyes, brain, meninges, middle ear or external ear with perforated tympanic membrane.
Do not inject.
Do not use in body openings.
Only use on newborn and young children if there is no alternative and the benefit outweighs the risk due to the possibility of chemical burns.
When use is to be followed by diathermy, do not allow pooling of the fluid and ensure skin and surrounding drapes are dry.
Action to be taken if swallowed:
If accidentally swallowed consult your doctor, for advice.

Possible side effects:
Chlorhexidine can very rarely cause hypersensitivity, including anaphylactic shock and allergic reactions. Possibility of chemical burns in newborn babies/infants. If any of these reactions occur, stop using the product and seek medical attention immediately.

Storage:
Do not store above 25°c. Store in the original package. Keep out of the reach and sight of children. DO not use this product after the expiry date indicated on the label.




| | | | | |
| --- | --- | --- | --- | --- |
| Product code: 2933190 | | Price: £6.70 (incl VAT) | | |