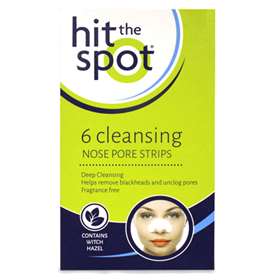 Click on image to enlarge



Price: £1.00 (incl VAT)
Sorry, this item is currently unavailable. Click here to receive notification when this product comes back into stock.
With added witch hazel, Hit the Spot Nose Pore Strips invigorate the skin whilst effectively removing pore clogging build up. In just one use they can remove dirt and oil that are the common cause of blackheads.

Used regularly Hit the Spot Nose Pore Strips can be beneficial in reducing the appearance of pores.
Helps remove blackheads and unclog pores.
Deep cleansing.
Fragrance free.
Contains Witch Hazel.
6 strips.
Directions for Use:
• Remove strip from pouch. Twist strip to loosen and separate prior to use.
• Wash face thoroughly to remove any residual oils and make-up. Pat dry.
• Peel strip off plastic liner. Apply to nose, smooth side down, pressing down to ensure good contact with skin.
• Let dry for about 10 - 15 minutes until stiff to touch.
• Slowly and carefully peel off starting edges, pulling toward center.
• For best results, use 1 - 2 times per week, leaving a 3 day interval between uses.

Warning:
Keep out of reach of children.
For use on the nose only.
Not suitable for use around the eyes.
Do not apply on sensitive, irritated, swollen broken, sunburnt, excessively dry skin or skin prone to spider veins.
Discontinue use if skin irritation occurs.
Consult with your doctor before use if you are using medication or suffer from a skin related condition.
Do not use if you are diabetic or elderly.
Avoid using on skin which is sensitive to bandages or peel-off face masks.
Remove strip as directed promptly after it becomes stiff.
If strip is is difficult or painful to remove, wet strip thoroughly until it slides of easily.
Forceful removal of the strip should be avoided and may cause skin abrasions. If this occurs, discontinue use and consult a physician.
Do not use more often than once every three days.
Store in a cool dry place.

Ingredients:
Aqua • Polyvinyl Alcohol • Glycerin • Hamamelis Virginia (Witch Hazel) Leaf Extract • CI77267 • Dipotassium Glycyrrhizate • PEG-20 Almond Glycerides.