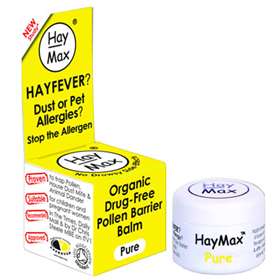 Click on image to enlarge



Price: £5.90 (incl VAT)
(Buy 3 or more for £5.31 each)
Price: £5.90 (incl VAT)
(Buy 3 or more for £5.31 each)
Hay Max Organic Drug Free Pure Balm 5ml helps to reduce the symptoms of hay fever by trapping pollen and reducing the intake. Hay Max is suitable for children and pregnant women, but should not be used if you are allergic to any of the ingredients.
Suitable for pregnant women and children.
Non-drowsy side-effects.
5ml Tub.
Drug free balm.
No added fragrance.
Traps pollen before it gets in.
Directions for use:
Apply a small amount around the base of nostrils. Reapply regularly and after sneezing or blowing your nose.

Cautions:
Do not take hay max internally. Do not swallow. If adverse reaction occurs stop using this product.

Allergy Advice:
No nuts in recipe, but cannot guarantee nut free ingredients or factory.

Ingredients:
Sunflower oil helianthus annuus, beeswax cera flava.





Product code: 40029
Price: £5.90 (incl VAT)
(Buy 3 or more for £5.31 each)