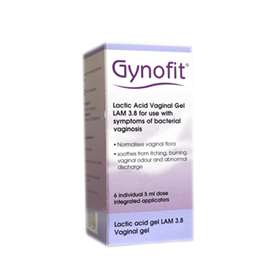 Click on image to enlarge



Price: £7.99 (incl VAT)
Sorry, this item is currently unavailable. Click here to receive notification when this product comes back into stock.
Available Balance Activ Gel 7 pre-filled single use tubes containing lactic acid.

Gynofit Moisturising Gel LAG for use with vaginal dryness. Six individual 5ml dose integrated applicators per pack.

Gynofit Lactic Acid Gel regulates the physiological pH in the vagina and helps normalise vaginal flora. These hygienic single use applicators contain a water based formula that forms a thin barrier on the vaginal mucous membrane and provides temporary relief of bacterial vaginosis.
5ml pre-filled applicators x 6.
Suitable for use post birth, during the menopause and with cancer therapies.
Hormone-free.
Free from preservatives, parabens and perfumes.
Sterile, hygenic single-use applicator, packaged in biodegradable foil.
Made in Switzerland.
This Lactic Acid Gel provides temporary relief from the symptoms associated with bacterial vaginosis. The gel can either be used on its own or alongside prescribed antibiotics in more severe cases. Application of the gel regulates the vaginal flora and normalises the pH. The unique ingredients soothe the itching and burning sensations whilst relieving offensive discharges. Gynofit was developed in collaboration with gynaecologists for symptomatic relief of vaginal irritation.

LAG (Lactic Acid Gel) Explained.

LAG is the term used to describe a system combining glycerin and two protective acids (levulinic and anisic acid). Glycerin and water, the active ingredients in Gynofit, moisturise the vaginal mucus membrane over the long term. Luvulinic and anisic acid help to balance this system and protect against bacterial infections. All of these ingredients can found be found in nature.

Directions for Use:
Shake contents of applicator towards its cap. Twist and break off the cap. Insert the applicator into the vagina. Squeeze out all the gel into the vagina. Gynofit can be used daily and is best used in the evening in a supine/lying down on your back position.

Warnings:
If your mucus membrane has been damaged in the past by improper care/hygiene or if you have a local contraceptive you may find that Gynofit causes some irritation.
Generally you should not experience any side effects.
Do not use if you have ever had an allergic reaction the the ingredients in Gynofit.
You can use Gynofit everyday as needed.
Gynofit is not a contraceptive but is safe for use with condoms.

Ingredients:
Water, Glycerin, Propylene Glycol, Hydroxyethyl Cellulose, Citric Acid, Levulinic Acid, P-anisic acid, Sodium Hydroxide.