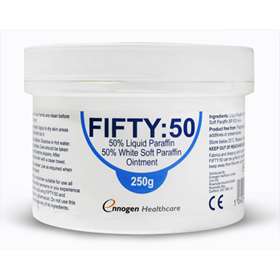 Click on image to enlarge



Price: £2.95 (incl VAT)

**Please note other generic brands may be sent as an alternative**
FIFTY:50 Ointment is a moisturiser suitable for use all over the body. It is an emollient for dry skin.

50% Liquid Paraffin.
50% White Soft Paraffin Ointment.
250g.
Directions for use:
Ensure hands are clean before using FIFTY:50 Ointment.
For use as an emollient: Apply to dry skin areas as often as required and rub it in.
For use as bath additive: Dissolve in hot water. Use as a soap substitute. Care should be taken as bath surface can become slippery. After bathing, gently pat the skin with a clean towel.
For use as a skin cleanser. Use as required when washing or in the shower.
Warnings:
If the condition worsens or you experience any undesirable effects, stop using FIFTY:50 and discuss with your doctor or pharmacist. Do not use this product if you are sensitive to any of its ingredients.

Ingredients:
Liquid Paraffin BP 50% w/w. White Soft Paraffin BP 50% w/w

Product free from:
Fragrances, Colourings, Additives or Preservatives.

Store below 25°C. Replace lid after use.

Keep out of the reach and sight of children.

Fabric and dressing which come into contact with FIFTY:50 can be ignited by naked flames. You should keep away from fire when using this product.

 




| | | | | |
| --- | --- | --- | --- | --- |
| Product code: 1071570 | | Price: £2.95 (incl VAT) | | |