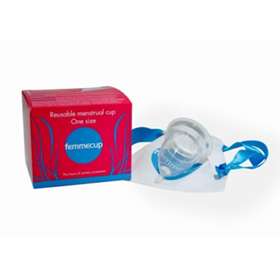 Click on image to enlarge



Price: £12.79 (incl VAT)
Sorry, this item is currently unavailable. Click here to receive notification when this product comes back into stock.
Femmecup is a soft, reusable cup which collects your menstrual flow instead of absorbing it. An eco-friendly alternative to regular menstrual products, each cup can save up to 11,000 tampons and pads from going to landfill.
Made from medical grade silicone means the Femmecup contains no fibres, bleaches, perfumes or other harmful chemicals and has never been associated with Toxic Shock Syndrome.
One size
Holds up to 30ml of fluid (3 times more than tampons)
Suitable for travelling, exercising and swimming
Can be left for up to 12 hours
Eco-friendly and cost effective
Safe to wear overnight
Directions for use:
Inserting the Femmecup is easiest when it is wet.
Find a position that is most comfortable for you, fold the sides of the cup together so that it is in half and then fold again.
Gently guide the folded cup into the vaginal opening and position as it feels comfortable.
To remove the Femmecup, gently pull on the stem and ease out one side at a time to avoid any spillage.

Cautions and Warnings:
Always keep clean.
Remove before sexual intercourse.
This is not a contraceptive and will not protect you from sexually transmitted diseases.
There is no need to remove before going to the toilet.
If you experience any discomfort or pain to your genital area or when passing water then remove and consult your doctor immediately.

Ingredients:
FDA approved, medical grade silicone.

Please read instructions fully for appropriate care of product.