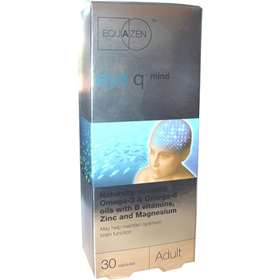 Click on image to enlarge



Price: £10.40 (incl VAT)
Sorry, this item is currently unavailable. Click here to receive notification when this product comes back into stock.
EPA-rich Marine Fish Oil and Virgin Evening Primrose Oil

Eye q Mind contains naturally sourced Omega 3 & Omega 6 oils with B vitamins, Zinc and Magnesium.
30 capsules.
For Adults.
Helps maintain optimum brain function.
What sets Eye q apart from other nutritional supplements is its high ratio of EPA to DHA. The makers use a unique marine fish oil that has significantly more EPA than DHA. This allows the EPA to function better, and gives it a more active role in helping to maintain the eye and brain in healthy functioning order.

Research has demonstrated that long chain polyunsaturated fatty acids play an important role in the development of the eye and brain: specifically vision, co-ordination, learning ability, memory and concentration.

Eye q contains a unique combination of the long chain polyunsaturated fatty acids EPA, DHA and GLA and can help safeguard dietary intake of these nutrients in people of all ages, especially children.