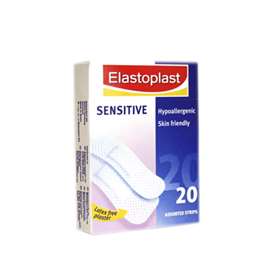 Click on image to enlarge



Price: £2.79 (incl VAT)
(Buy any 3 or more Elastoplast products and save 5%)
Price: £2.79 (incl VAT)
(Buy any 3 or more Elastoplast products and save 5%)
Elastoplast Sensitive Assorted Strips 20 are hypoallergenic, latex-free and skin-friendly plasters.

Elastoplast Sensitive Assorted Strips are made from flexible and comfortable material.
14 (19 x 72mm) and 6 (30 x 72mm) plasters.
Latex-free plasters.
Non-stick pad protects and cushions wound.
Packaging may contain latex.
Directions for use:
Clean wound and gently dry skin.
Apply without stretching.
Use each strip only once.
Store in a cool dry place.

Cautions:
Packaging, peel-pouch and release paper of this product may contain latex.




Product code: ELA420M
Price: £2.79 (incl VAT)
(Buy any 3 or more Elastoplast products and save 5%)