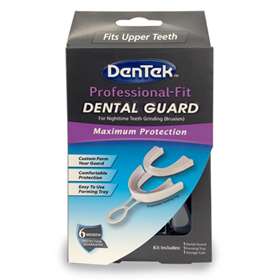 Click on image to enlarge
| | |
| --- | --- |
| Price: £24.55 (incl VAT) | Sorry, this product is no longer available. |
DenTek Guard Professional Fit Maximum Protection Kit - Protection against night time tooth grinding (Bruxism).

Fits Upper Teeth.
Maximum Protection.
Soft, opaque, gel-like tooth guard.
For those who grind their teeth at night.
Grinding teeth noises will stop!
Moulds to the shape of your teeth and mouth.
One size fits all - Small, Medium and large.
Kit Contains: 1 Dental Guard. 1 Forming Tray. 1 Storage Case.
DenTek have designed the Night Guard to cushion and protect the teeth from night time grinding. Tooth damage will reduce, as will the noises associated with Bruxism. The DenTek Night Guard is very similar to the type of tooth guard your dentist might give you and is recommended by dentists to prevent grinding at night. The Night Guard is comfortable to wear and stays in your mouth all night. It will not disrupt your sleep or breathing.

How to use DenTek NightGuard...
1. Firstly, position the guard in your mouth. To do this you can squeeze or pull out the arch if it is too narrow or too wide.
2. Trim the ends of the guard if it feels too long at the back of the mouth. There are guide lines here to follow if you need to. (Remember to continue to check the fit and alignment after each alteration before moving onto step 3).
3. Heat the NightGaurd. To do this you boil a pot of water and then leave it to rest for a minute. Submerge the protector for 25 seconds and then submerge into a cup of room temperature water for a second. Position the protector in your mouth and once in place, bite down and suck in to remove excess moisture. You can always repeat the boiling process again if you did not get step 3 correct the 1st time.

Full guidance directions included.

Cautions and warnings: Read carefully before purchasing the DenTek NightGuard. Not suitable for use as a sports mouth piece or on anyone under the age of 18. Do not use for more than 3 months without dental supervision. This mouth guard should not be used if you have a loose teeth or teeth that can wiggle, pain or clicking in the jaw or if your dentist has told you that you have temporomandibular joint (TMJ) or clicking on the jaw. Do not use if you have any pain from teeth grinding or other forms of tooth or jaw pain. This product should not be used if you have dental implants, or if you wear dentures, braces or other dental appliances.

Ask a dentist before use if you have: major health problems or serious breathing or respiratory conditions, oral sores, bleeding gums or any gum disease, cavities that have no fillings, or loose fillings/caps, difficulty chewing or pain of the jaw, teeth or face or if you have two or more missing teeth.