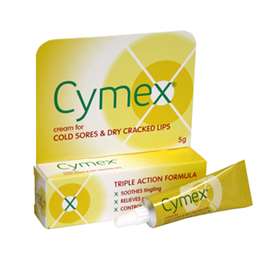 Click on image to enlarge



Price: £2.19 (incl VAT)
Sorry, this item is currently unavailable. Click here to receive notification when this product comes back into stock.
Cymex® Cream is designed to relive painful cold sores and dry cracked lips.

Cymex starts to work from the moment you use it. Its triple action relieves and promotes the healing of painful and unsightly cold sores and dry cracked lips.


Triple action formula:

Soothes tingling, burning sensation.

Stops crackling lips.

Anti-bacterial action controls infection and promotes faster healing.

5g metal screw top tube.


Directions: Apply cream sparingly every hour as required.

Active ingredients:
Urea B.P. 1.0w/w • Dimeticone 350 B.P.C. 9.0% w/w • Cetrimide B.P. 0.5% w/w • Chlorocresol B.P. 0.1% w/w • Also contains: Paraffin, cetostearyl alcohol, water.

Please note: Do not use if you are allergic to any of the ingredients. Cetostearyl alcohol may cause local skin reactions (e.g. contact dermatitis) in some people.