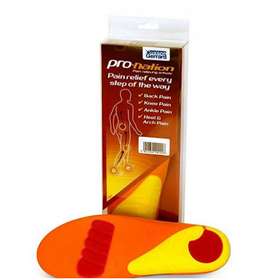 Click on image to enlarge



Price: £11.69 (incl VAT)
Sorry, this item is currently unavailable. Click here to receive notification when this product comes back into stock.
If you suffer from,back,knee,ankle or heel and arch pain, the pro-nation orthiotics offer an immeidate solution. The orthotics align your feet correctly to the ground, giving you stability and support. By correctly aligning your feet this relieves and prevents the pain. By using carefully selected densities of modern polyurethane foams and polypropylene plastics theu deliver a supportive yet very comfortable underfoot.
Back pain.
Knee pain.
Ankle pain.
Heel & arch pain.
Also available in size 6-8 & size 8-11

Directions for use:
The orthotics can be cut to length following the markings by the toe area.
Wear the orthotics for a few hours a day to start with until feet are accustomed to the improved support.
Always use in closed shoes.

Warnings:
Those who suffer with diabetes, circulatory disorders or severe foot deformities should seek professional medical advice from their podiatrist or doctor before using orthotics. In such circumstances or, as with any over the counter product, if pain persists, consult your doctor or podiatrist.