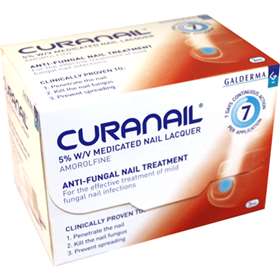 Click on image to enlarge



Price: £16.89 (incl VAT)
Sorry, this item is currently unavailable. Click here to receive notification when this product comes back into stock.
Curanail 5% Nail Lacquer 3ml is the once weekly treatment for mild nail infections. Previously prescription-only, Curanail is used to treat fungal infections affecting the upper half or sides of the nail in up to two nails.
Penetrates the nail.
Prevents spreading.
Kills the nail fungus.
Curanail 5% Nail Lacquer should be applied once weekly. It is important to continue using Curanail until the infection has cleared and healthy nails have grown back. This usually takes 6 months for finger nails and 9 to 12 months for toe nails. Treatment should be reviewed every three months.

Each pack contains:
3ml of Curanail nail lacquer, 10 Spatulas, 30 cleaning swabs, 30 nail files and a product information leaflet.

Curanail Nail Lacquer may be provided from time to time as the Amorolfine Generic.

Directions for each infected nail:
File down the infected area of the nail.
Clean the nail surface using a cleansing swab.
(Express Chemist also sell Numark antiseptic wipes for 99p for 10 individually wrapped wipes. Alternatively, you may wish to try Cotton Wool with an antiseptic liquid such as TCP or Distilled Witch Hazel to clean the infected area before the application of Curanail) then apply the Curanail nail lacquer over the entire nail surface using one of the re-usable applicators.
Allow to dry approximately for 3 minutes.

Cautions:
There may be a slight, temporary burning sensation when Amorolfine 5% nail lacquer is applied but this soon wears off. Avoid contact with the eyes, ears or mucous membranes. Curanail is not suitable for people under the age of 18 years. For EXTERNAL use only.

Not suitable for:
Women who are pregnant or breastfeeding.
Curanail is not suitable for those with hypersensitivity reaction to amorolfine or any of the other ingredients contained in Curanail 5% nail laquer, severe nail infections and Proximal nail infections. Curanail is not suitable for patients with underlying conditions that make them more susceptible to fungal nail infections, e.g. peripheral circulatory disorders, diabetes and immunosuppression.
Do not use nail varnis or artificial nails on top of Curanail.

Ingredients:
Curanail 5% Nail Lacquer contains 5% w/v amorolfine. It also contains: Ammonio methacrylate copolymer A, triacetin, butyl acetate, ethyl acetate and ethanol.

See also