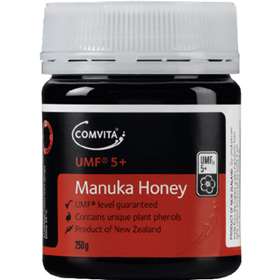 Click on any image to enlarge



Price: £9.69 (incl VAT)
Sorry, this item is currently unavailable. Click here to receive notification when this product comes back into stock.
Comvita's UMF 5+ Manuka Honey features Non-Peroxide activity which happens to be more powerful than "Active" Honeys which only feature Peroxide Activity. It is the Non-Peroxide activity in Comvita's UMF Manuka honey which incorporates exceptional antibacterial attributes.


Contains unique plant phenols.

250 gram tub.

UMF (unique manuka factor) 5+.

Each and every batch of Manuka honey from Comvita is tested by qualified laboratories certified to determine the UMF level.

Directions of Use: can be used as a delicious spread. For preferred honey consistency, warm to soften or refrigerate to firm.
Take 1-2 teaspoons 30 minutes before food.

Cautions: Not to be given to children under one year of age.
For topical application please use the Comvita Medihoney brand.
Do not use if cap seal is broken.

Ingredients: contains 100% pure New Zealand Manuka Honey. UMF 5+ contains 100% Manuka Honey with no additives or preservatives.