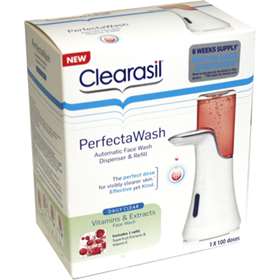 Click on image to enlarge
| | |
| --- | --- |
| Price: £8.59 (incl VAT) | Sorry, this product is no longer available. |
Clearasil Perfecta Wash Automatic Face Wash Dispenser is dermatologically tested and gives you noticeably purer skin without over drying. Clearasil Perfecta Wash Dispenser has an automatic touch-free dispensing mechanism which removes any guesswork out of using the correct quantity of face wash. Upon waving your hand under the sensor, the Perfecta Wash Dispenser will instantly supply the correct amount for you.


1 x 100 doses.

Automatic Touch-free dispenser delivers the perfect dose of face wash.

Dermatologically tested.

1 dose = 1 activation of dispenser.

Contains 1 face wash refill (Superfruits Extracts and Vitamin E).

The Clearasil Perfecta Wash Automatic Face Wash Dispenser kit comprises of a dispenser and 1 face wash refill in Superfruit Extracts and Vitamin E. An alternative refill is also available in Soothing Plant Extracts and Vitamin E face wash. Each refill contains 100 doses (1 dose equals 1 activation from the dispenser).

Ingredients of Superfruit Face Wash Refill:

Aqua, Glycerin, Sodium, Laureth Sulfate, Cocamidopropyl Betaine, Coco-Glucoside, Salicylic Acid, Sodium Chloride, Laureth-4, Parfum, Tocopheryl Acetate, Propylene Glycol, Polyquarternium-43, Disodium EDTA, Trideceth-9, Rubus Idaeus Juice, Vaccinium Macrocarpon Fruit Extract, Phenoxyethanol, Bisabolol, Citric Acid, Methylparaben, Butylparaben, Ethylparaben, Isobutylparaben, Propylparaben, CI17200, CI15985.

Vitamin E known to nourish skin. Extracts of Raspberry and Cranberry superfruits known for their anti-oxidant properties to help keep skin looking healthy.

Directions for Use:

Insert refill into Perfecta Wash dispenser until you hear it click into place. Remove red tab to activate batteries (batteries already installed in the pack). Place dispenser on the surface where you will use it. Switch it to on using the on/off switch on the back of the dispenser. Wait until the blue light at the front stops blinking. The Clearasil Pefecta Wash Dispenser is now ready to use.

Use the Clearasil Perfecta Wash Automatic Face Wash Dispenser everyday in the morning and evening for visibly clearer skin. Wet hands and place hand underneath the nozzle. Ensure hand is placed between the nozzle and the indicator light. The dispenser will automatically dispense the perfect dose of face wash on your hand. When using device for the first time, you will need to repeat this action a few times. Massage gently onto the face avoiding the delicate eye area. Rinse thorougly with warm water. Pat dry.

Cautions:

Keep the Clearasil Perfecta Wash Automatic Face Wash Dispenser out of the reach of children. For external use only avoid contact of the face wash with the eyes and mouth. If contact occurs, rinse thoroughly with water. If skin irritation occurs, discontinue use. If irritation persists, consult a doctor. Wash hands after use. Store in a cool dry place. Keep out of direct sunlight.