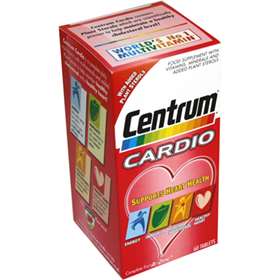 Click on image to enlarge



Price: £12.49 (incl VAT)
Sorry, this item is currently unavailable. Click here to receive notification when this product comes back into stock.
Centrum Cardio 60 Tablets are a complete daily multivitamin with multimineral supplement, formulated for people who love their heart. Centrum Cardio contains added Plant Sterols that helps to maintain a healthy cholesterol level and vitamins B6, B12 and Folic Acid for a healthy heart.
60 tablets.
Scientifically proven to maintain healthy cholesterol and healthy heart.
Complete daily multivitamin with multiminerals and added plant sterols.
Gluten free.
Supplements your diet and lifestyle.
Aids the body's immune system.
Helps to release energy from food for overall health and well-being.
Centrum Cardio also supplements your diet and lifestyle by containing all 25 essential vitamins and minerals recommended on a daily basis. It is gluten free and suitable for adults and children over the age of 12.

Benefits of Centrum Cardio
Healthy Heart: To keep your heart healthy, Centrum Cardio contains vitamins B6, B12 and folic acid.


Healthy Cholesterol: CoroWise Plant Sterols help maintain healthy cholesterol.


Looking Healthy: Vitamins A, C, E, B6, riboflavin and niacin help to maintain healthy-looking hair, skin and nails.


Immunity: Zinc and vitamin C (an antioxidant), help support your body's immune system.


Energy: Pantothenic acid, vitamins B1, B2, B6, phosphorus (mineral) and magnesium help release energy from food to assist overall health and well-being.


Bones: To maintain strong and healthy bones, Centrum Cardio contains vitamin D that is vital for absorption and metabolism of calcium.


Concentration: Iron maintains healthy blood, which is required for normal work performance and concentration.


Blood: As well as an intake of Calcium, taking a sufficient amount of folic acid, iron and vitamin B12 will help maintain healthy blood cells.

Ingredients:
Zinc Oxide, Manganese Sulphate, Vitamin B6, Starch, Gelatin, Copper Sulphate, Vitamin B2, Beta-Carotene, Vitamin B1, Sucrose, Vitamin A, Folic Acid, Glucose Syrup, Chromium Chloride, Potassium Iodide, Sodium Selenate, Biotin, Vitamin D, Vitamin K, Vitamin B12, Plant Sterols, Dicalcium Phosphate, Bulking agents E460, E468, E464, Magnesium Oxide, Vitamin C, Potassium Chloride, Anti caking agent E551, Vitamin E, Niacinamide, Modified Starch, Ferrous Fumarate, Emulsifier E470, Maltodextrin, Calcium-D-Pantothenate, Colourant E171.

Directions for Use:
Take two Centrum Cardio tablets once a day with food.

Cautions:
Centrum Cardio tablets are exclusively for people who want to maintain a healthy cholesterol level. If you are taking any other cholesterol lowering medication, it is vital that you consult your doctor before taking Centrum Cardio Tablets.
Store out of the sight and reach of children.
Not suitable for pregnant or breast feeding women.
Do not use if packet seal is damaged or open.
Total dietary intake of plant sterols should not exceed 3g per day.
Store in a dry place and not above 25C.
Not to be used by children under the age of 12 years.
If taking other supplements, please read label carefully, since supplements may contain the same ingredient.
Centrum Cardio contains iron, which can be harmful to children if taken in large doses.
A healthy lifestyle and a varied and balanced diet are important. Centrum Cardio should not be used as a substitute for a varied diet and a healthy lifestyle.