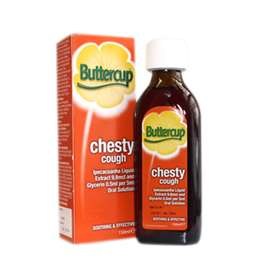 Click on image to enlarge
| | |
| --- | --- |
| Price: £3.80 (incl VAT) | Sorry, this product is no longer available. |
Buttercup Chesty Cough 150ml is a soothing and effective syrup for the relief of chesty coughs.
Soothes chesty coughs.
Contains ipecacuanha and glycerin.
Directions for use:
Adults and children over 12 years old to take 5 to 10ml 3 to 4 times daily.

Precautions:
Not more than 4 doses in any 24 hours.
Do not exceed the stated dose.
If too much is accidentally taken, contact nearest hospital immediately.
Do not take with any other cough and cold medicines.

Not for children under 12 years of age.

May cause indigestion, nausea, vomiting, diarrhoea and heart palpitations.
Do not use if allergic to any of the ingredients, have kidney, liver or heart problems or breastfeeding unless on the advice of a doctor.
Check with a doctor or pharmacist if taking other medicines.

Ingredients:
Ipecacauanha Liquid Extract 9.8mcl, Glycerin 0.5ml per 5ml, Glucose, Sucrose, Citric Acid E330, Lemon Oil, Acetic Acid E260, Camphor, Ethylhydroxybenzoate E214, Propylhydroxybenzoate E216, Methylhydroxybenzoate E218, Amaranth E123, Purified Water.