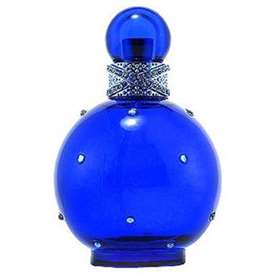 Click on image to enlarge
Another offering from Britney Spears for the youth perfume market Midnight Fantasy presents an enigmatic reworking of her hit perfume Fantasy.

Well received by her fan base and web reviewers, Midnight Fantasy is often cited as being the most successful of Britney's Fantasy perfumes of which at the time of writing extends to a range of 8 variants all delivered in similar potion bottles adorned with crystal glass motifs.

Well balanced fruit, floral and sweet flavoured accords tie Midnight Fantasy together giving a fragrance which makes for good night-wear, without being inappropriate for the target age group.

We offer 30, 50 and 100ml bottles of Midnight Fantasy please follow the links below to purchase

Please note: We are unable to ship perfumes, aftershaves or aerosols outside the EU Mainland. Due to transport legislation, we cannot ship more than 4 fragrances per order. Our perfume orders work on a back-order system that might take up to 7 days; if you have an urgent request, please contact us prior to ordering.