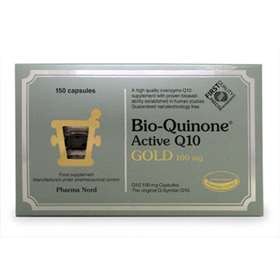 Click on image to enlarge



Price: £57.40 (incl VAT)

A vitamin-like substance which plays a vital role in the body's energy supply mechanism, acting alongside enzymes converting fats and sugars into energy. All body cells require a supply of Q10, with the heart and muscle cells having a particularly high demand.

This patented preparation delivers coenzyme Q10 in the active formula that has been documented in over 90 scientific studies to provide a consistently high level of bio-availability.
Maintain and support a healthy heart and cardiovascular system.
Reduces fatigue.
Directions for Use:
1-4 capsules per day or as directed by your doctor.
To be taken with food.

Nutritional supplements should not be used as a substitute for a varied diet and healthy lifestyle.

Ingredients:
Coenzyme Q10 100 mg, Vegetable oil 364 mg.
Other ingredients: Fish gelatine, Glycerol, L-Ascorbic acid, Ammonia caramel, Purified water. Silicon dioxide.





| | | | | |
| --- | --- | --- | --- | --- |
| Product code: 2596112 | | Price: £57.40 (incl VAT) | | |