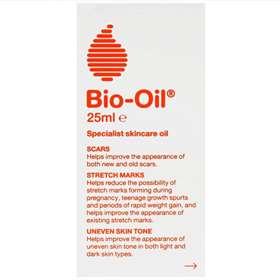 Click on image to enlarge



Price: £3.17 (incl VAT)
Sorry, this item is currently unavailable. Click here to receive notification when this product comes back into stock.
Bio Oil Specialist Skincare Oil
Bio-Oil is designed to be massaged into skin daily to reduce the appearance of uneven & textured skin.
Bio Oil is specially formulated for: Scars • Stretch Marks • Uneven Skin Tone • Ageing Skin • Dehydrated Skin.
The breakthrough ingredient in Bio-Oil is PurCellin Oil.
Bio-Oil can be used on the face, body and any skin type.
Bio-Oil contains Vitamin A, Vitamin E, Calendula Oil, Lavender Oil, Rosemary Oil, Chamomile Oil and NO preservatives.
Bio-Oil is non-greasy, quickly absorbed and hypoallergenic.
Bio-Oil 25ml bottle. Other sizes available are: Bio-Oil 60ml • Bio-Oil 200ml.
Bio-Oil is a specialist skin oil developed to help improve the appearance of scars and stretch marks. Bio-Oil's advanced formulation also makes it extremely effective for numerous other skin concerns; Bio-Oil helps to promote even skin tone, nourishes ageing skin and provides intensive lubrication to dry, flaky skin.

Bio-Oil's unique ingredient PurCellin Oil is a rapidly absorbed 'dry' oil and leaves no oily residue. Bio-Oil is the carrier of the vitamins A and E, Calendula, Lavender and Rosemary oils and Chamomile extract. Bio-Oil is free from preservatives and is suitable for all skin types.
Scars: Bio-Oil helps reduce the appearance of both new and old scars, whether caused by surgery, accidents, burns, insect bites or conditions such as chickenpox or shingles. Bio-Oil is also effective for reducing discomfort associated with scarring, including tight, dehydrated and flaky skin.
Stretch marks: Bio-Oil helps prevent stretch marks during periods of rapid change in body size such as pregnancy, adolescence and sudden weight loss/gain. Bio-Oil helps reduce the appearance of existing stretch marks.
Uneven skin tone: Bio-Oil helps reduce the appearance of pigmentation marks and blemishes, and promotes even skin tone.
Ageing skin: Bio-Oil helps smooth and tone ageing, sagging and wrinkled skin on both the face and body.
Dehydrated skin: Bio-Oil provides intensive and sustained lubrication to dry, flaky skin, relieving discomfort and improving its appearance.
Daily skincare: Bio-Oil replenishes the skin's natural oils, stripped away by factors such as extreme weather, water with a high chemical content, frequent bathing, and the drying effects of central heating and air conditioning.
Directions
For Scars:
Massage Bio-Oil twice daily on to the scar. Use a circular movement until the Bio-Oil has sunk in. Do so daily for at least 3 months.

For Stretch Marks:
To avoid stretch marks massage Bio-Oil into the skin twice a day into stretch mark-prone areas.
During pregnancy, apply Bio-Oil to the abdomen, breasts, hips, lower back and upper thighs from the first trimester until after birth.
On existing stretch marks, massage Bio-Oil twice a day into skin for at least 3 months.

For uneven skin tone, blemishes & ageing:
Massage Bio-Oil into the face and neck using finger tips and a circular motion.
Use Bio-Oil for at least 3 months.

For Dehydrated Skin:
Massage Bio-Oil into the skin after washing, sun-tanning or swimming. Bio-Oil can also be used as a bath oil.

Ingredients:
Paraffinum Liquidum • Triisononanoin • Cetearyl Ethylhexanoate • Isopropyl Myristate • Retinyl Palmitate (Vitamin A) • Helianthus Annuus Seed Oil • Tocopheryl Acetate (Vitamin E) • Anthemis Nobilis Oil (Chamomile Oil) • Lavandula Angustifolia (Lavender Oil) • Rosmarinus Officinalis Oil (Rosemary Oil) • Calendula Officinalis Extract (Claendula Oil) • Glycine Soja Oil • BHT • Bisabolol • Parfum • Alpha-Isomethyl Ionone • Amyl Cinnamal • Benzyl Salicylate • Citronallol • Courmarin • Eugenol • Farnesol • Geraniol • Hydroxycitronallal • Hydroxyisohexyl 3-Cyclohexene Carboxaldehyde • Limonene • Linalool • CI 26100 •