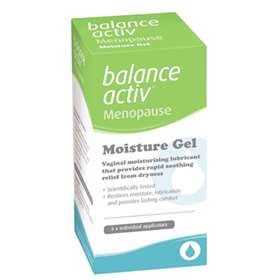 Click on image to enlarge



Price: £10.49 (incl VAT)
Sorry, this item is currently unavailable. Click here to receive notification when this product comes back into stock.
Balance Activ Menopause Moisture Gel 5 helps to relieve vaginal dryness which can cause discomfort and irritation during or after the menopause.
Does not cause discharge.
5 x 4ml applicators.
Light non-sticky texture.
Clinically tested.
Fast acting, long lasting.
Hormone free.
Directions for use:
Should be used daily for 5 days, then reduce usage to two/three times a week.

How to use:
Twist the end tab off, sit or lay down comfortably then gently insert the applicator into the vagina as far as it will comfortably go. Gently squeeze the applicator to release the gel. Discard after use.

Balance Activ Menopause Moisture Gel 5 is hormone free and designed to lock in long lasting moisture.

Warnings:
Do not use if the end tab is broken. Discontinue use if irritation occurs. Do not use if gel is out of date and keep out of reach of children.

Cautions:
Pregnant women should speak to there doctor or midwife before using this product.

Ingredients:
Phosphate buffered saline, sodium hyaronate (hydaluronic acid), phenoxyethanol, methylparaben.