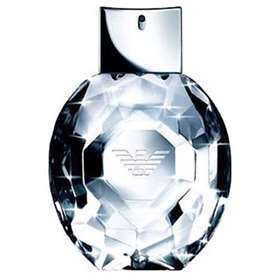 Click on image to enlarge
The Emporio Armani sub-brand represents the premium luxury end of the Armani spectrum. Perfumes released under the Emporio name typify the height of Armani sleek, modernist chic as so famously played out in Armani's celebrated fashion concepts.

Compared to other releases from Emporio, the Diamond for Her fragrance is delivered in a more overtly glamorous style, the sparkling diamond perfume vial a large reproduction of a girl's best friend, undoubtedly a collectable trinket to brighten the corners of any woman's dressing table.

Described by the Armani PR machine at it's release in 2007 as 'gourmand-floral', the notion of creating edible flowers works through this perfume with notes of rose in the heart married with litchi and raspberry to stimulate the taste buds and the nose.

In keeping with the over-arching notion of understated refinement working within the Emporio stable, Diamond for her gives a softer silage but lingers on the skin with a boldness that is said to uplift the spirit. A great choice for the sophisticated, confident woman not afraid to indulge in the luxurious.

Please follow the links below to purchase

Please note: We are unable to ship perfumes, aftershaves or aerosols outside the UK Mainland. Due to transport legislation, we cannot ship more than 4 fragrances per order. Our perfume orders work on a back-order system that might take up to 7 days; if you have an urgent request, please contact us prior to ordering.