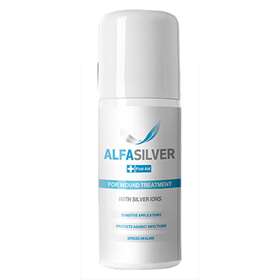 Click on image to enlarge



Price: £7.45 (incl VAT)

Treats Minor injuries on the go!


For further information click here.

Not all first aid treatments are suitable for every type of injury, they may not stay in place, may fall off in the shower, or be difficult to use on injuries in hard to reach places. AlfaSilver Spray is a new wound treatment with antibacterial silver ions which speed the healing of cuts, grazes, minor burns and blisters.

Alphasilver covers the cut or graze with a breathable barrier. Which protects the injury and promotes the body's own healing process, contains silver ions which are well-known for their antibacterial properties to help protect against infection.
Contains 3% ionic silver.
Treats cuts, grazes, minor burns and blisters.
Promotes healing.
Protects against infection.
Shower proof.
Suitable for sensitive skin.
Directions for Use:
First clean the injury.
Shake the can and spray on the cut or graze in short bursts.
The spray will show as a white coating on the skin so you can see it has covered the injury.
Easy to spray on the hard to reach places.
If any does get on to healthy skin, simply wipe away.
Any excess powder on the injury or skin around it is entirely normal. This is because each injury is different and the amount it oozes may require more or less of the AlfaSilver mineral coating to fully absorb it.
Is easily removed with the use of saline spray.
If necessary, ensure that product stays on the wound with sterile gauze or a sterile bandage.

Ingredients:
Micronized Zeolite • Ionic Silver • N-butane •





| | | | | |
| --- | --- | --- | --- | --- |
| Product code: 4048104 | | Price: £7.45 (incl VAT) | | |