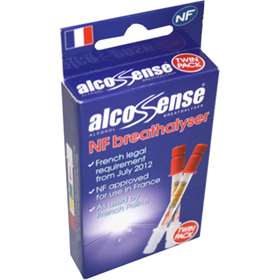 Click on image to enlarge
| | |
| --- | --- |
| Price: £4.25 (incl VAT) | Sorry, this product is no longer available. |
AlcoSense NF Breathalyser Twin Pack is the most advanced single use disposable breathalyser on the market. It stands slightly smaller than a cigarette and is the only single use product to accurately alert you to different levels of intoxication. You can't tell when the alcohol's cleared your system, but AlcoSense can.
Twin pack.
Identifies your alcohol level in 2 minutes.
Complies with French NF breathalyser standards.
NF marked so can be legally used in France.
As used by the French Police force during roadside screenings.
Red line indicator to show whether you are over the French drink drive limit.
Twin packed to meet the minimum of 2 NF approved breathalysers, that must be carried in your car at any time while in France.


AlcoSense Breathalyser contains patented crystals within the tube that change colour from yellow to green to show the presence of alcohol. The greater the levels of alcohol concentration the user has are shown by how far up the graduated tube, the green colour appears. Each line that the green colour change passes, indicates another limit passed.


Why Do I Need An AlcoSense Breathalyser When Travelling To France?

On the 1st July 2012 French driving laws changed, making it illegal to drive in France without an NF Approved breathalyser in your car. To comply with this law, the AlcoSense NF Breathalyser Twin Pack is specifically designed to meet NF regulations and includes the NF signature on it. In France only an NF approved device will do, any other type of breathalyser is not permitted.

AlcoSense NF Breathalysers are used by Police Forces in over 30 countries including the Police Force in France. French officers use them as a quick and effective screening device to identify whether a driver is over the limit. In the case that a suspect fails the screening, they are taken to the nearest Police station for blood and/or urine testing before conviction.